Heathrow Airport Parking Discounts
Top tips to get the best Heathrow airport parking discounts
This page has a ton of great tips for getting cheap Heathrow airport parking. You'll get access to our new voucher codes that work instantly – no need to copy and paste. Our team of experts hand-test each Heathrow airport discount code on this page. We're pretty stringent when it comes to offering you the best discounts in the market. Here you'll see discounts for all types of parking including Meet and Greet and Park and Ride at Heathrow airport. Customers are always searching for Heathrow airport parking terminal 5 discount codes, and other terminals and we have them right here. Don't book your airport parking until you've seen the prices you can get using our discount codes. You can save £30 on your parking and hotels at Heathrow airport by following the simple advice on this page. We hope you can find cheap parking at Heathrow airport today and use that extra cash to get yourself some other holiday essentials.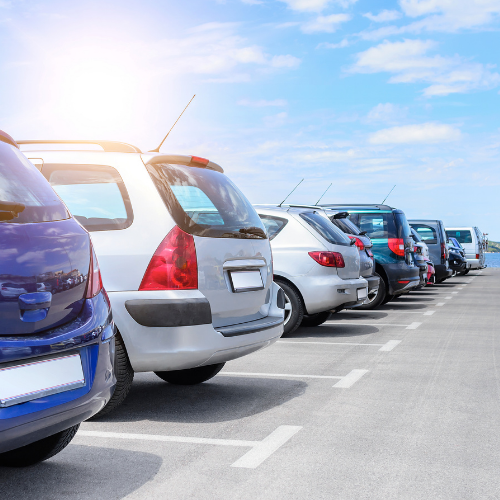 The best Heathrow Airport parking discounts for 2023
30% discount code on Heathrow airport parking
This voucher code is the best if you want the cheapest parking at Heathrow airport and are happy to consider Meet and Greet or Off Airport Parking. The Official Long Stay car park at Heathrow airport is non-discountable on all websites. However, our voucher code does give you discounts on all the other car parks. We would suggest using a car park such as Purple Parking Meet and Greet at Terminal 5, as this gets awesome reviews and is a great price. The discount code on these car parks is currently 20%. Some car parks give you an up to 30% discount instantly, meaning you can save as much as £82 for 2 weeks parking. This exclusive promotional code is embedded in our link so you just need to make a search to use the discount.
25% discount code for Heathrow airport parking including Meet and Greet
This voucher code has recently increased the parking discounts at Heathrow airport. You can access exclusive discounts on car parks such as MBW Meet and Greet, Maple Manor airport parking as well as a wide range of over 10 other Off-site airport car parks. This voucher code automatically applies when you search for your holiday dates in the booking engine. Again the official car parks are not discountable, this is a restriction set by the airport, so we suggest using one of the other reputable car parks and making a real saving. Cancellation cover is available for all bookings and all off-site airport car parks run regular transfers to the terminal – typically only 5 to 10 mins transfer time. You can clearly see the customer rating out of 10 next to each car park so you make an informed choice. Whichever car park you choose, the discount code works for all off-airport car parks so this code is becoming one of our most used in our site.
14% discount on airport Hotels with Parking at Heathrow
Getting an airport hotel with parking included is very popular at Heathrow airport. Heathrow is a busy airport with 5 terminals. Many customers want a discount code for parking at terminal 5 and terminal 2. Our voucher code gives you discount codes for car parks at all the terminals. This code is particularly good for those wanting to save the most by getting an airport hotel with parking included. This 14% discount code can easily save you £30 for a hotel stay with 2 weeks parking. Highly rated hotels such as the Hilton, Marriott, Mercure and Premier Inn are all available with airport parking at a discounted rate and a further discount via our promo code. Voucher codes for Heathrow airport hotels with parking are being used more and more each month as customers realise the convenience of using an airport hotel. All hotels are right near the airport so you can wake up after a great night's sleep and get ready to board the plane just around the corner.
How discount codes work for Heathrow Airport Parking
Applying our Heathrow Airport parking discount codes is very easy. When you click the links on this site the discount codes will automatically apply. You don't need to copy and paste any discount codes. When you make a search for Heathrow parking and select your dates you'll see the discounted parking prices. Then all that's left to do is to book the car park do you like the look off. These voucher codes can expire at any time so don't hang around.
FREE Cancellation with these Heathrow Airport Parking voucher codes!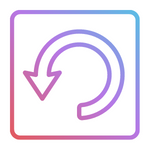 Cancelling your parking booking for free has never been so easy at Heathrow Airport. You'll see the free cancellation stamp next to all the car parks where you can cancel or amend your booking for free. These awesome Heathrow Airport parking discount codes still work even with the free cancellation car parks. So you can book today and save cash, and if your plans change you can easily cancel for free.
| Car Park | Price | Saving |
| --- | --- | --- |
| Purple Parking Park and Ride T2, T3, T4 | £69.26 | £7.69 |
| Blue Circle Meet and Greet T2 – T5 | £126.89 | £14.10 |
| Purple Parking Meet and Greet T2, T3, T4 | £111.12 | £12.90 |
| Holiday Extras Perfect Meet and Greet T2-T5 | £107.09 | £11.90 |
| Maple Manor Parking Meet and Greet all terminals | £118.09 | £9.02 |
| Maple Manor Parking Business Meet and Greet | £134.09 | £14.90 |
| MBW Meet and Greet T2-T5 | £143.99 | £15.99 |
Save £30 fast – How to access a good deal on Heathrow airport parking
Car parks at Heathrow airport fill up fast, which means that it's easy to get caught paying full price. Prices increase the later you leave it, so why not take advantage while everyone else pays more? The best ways to get a deal on Heathrow airport parking is by:
1. Book early – 30 days in advance or more if possible
2. Use our exclusive discount codes
3. Book a hotel with parking included (for a cheaper parking price)
These tips can save you 70% vs. paying full price a few days before you fly. All promotional codes on this page are fully tested before going live.
Using our verified Heathrow Airport discount codes
Here's why it's a no-brainer!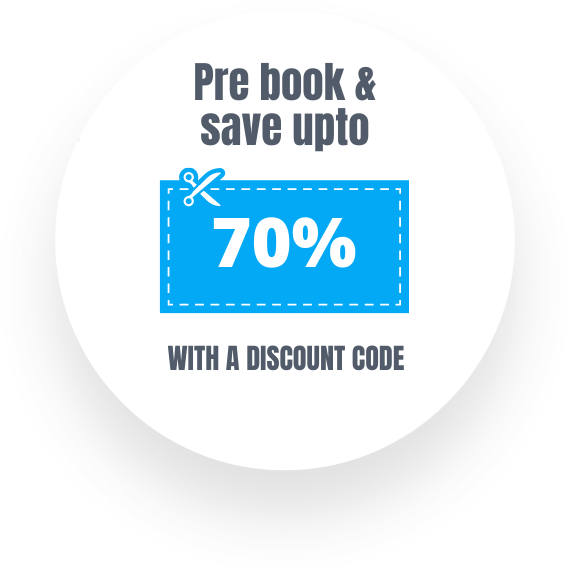 Here's why you must pre-book your car parking at Heathrow airport
Here's the low-down
If you're looking for a cheaper price, then look no further than pre-booking. In fact over 80% of customers could have saved money by doing so earlier! Low-priced spaces at Heathrow are limited and some car parks actually fill up completely, meaning you have less choice and could miss a real bargain. Airport parking is still the cheapest way to get to the airport, but you need to get it at the right price. Using our discount code in combination with a 30 day pre-book period is how you'll get cheap Heathrow airport parking. Prices go up by the day and Heathrow is a busy airport, so use our exclusive Heathrow airport parking promo codes today for the best prices.
Uncover the best Heathrow Airport parking discounts
And put cash back in your pocket for the holiday.
Discounts made on Heathrow parking
Voucher codes used at Heathrow airport
Car parks available at Heathrow
Saving just got simple
There's no leg work to do. Just click through and see the voucher codes for car parking at Heathrow airport apply and reduce the price
Heathrow airport parking discount codes used