Glasgow Airport Parking Discounts
Free voucher codes that get you Glasgow Airport parking discounts.
You want to park your car at Glasgow Airport but it's expensive. We have created this site to help people find Glasgow Airport parking voucher codes easily and spend less. It only takes a few seconds, so why not give it a try? Click the vouchers below to see how much we can save you. We've found promo codes for Official Long Stay and Short Stay airport parking at Glasgow Airport. All the vouchers are hand-picked by us to make sure they are valid. The discounts apply to on site airport parking as well as off airport car parks and discounts are increasing each year as more customers see the benefit in using discount codes.It's easy to save £10-£20 on a week's airport parking by using one of our exclusive voucher codes.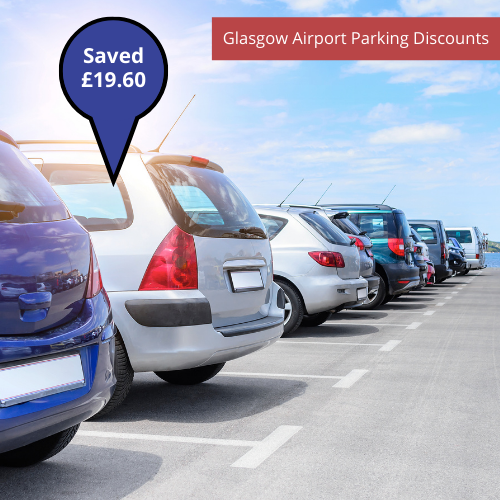 Fully tested Glasgow Airport parking discounts for 2023
10-22% discount code at Glasgow Airport (Including Official Short Stay and Long Stay)
This discount code from saves you money on both onsite and offsite car parks. Use this code to get a 12% discount on Long Stay car park 1 at Glasgow Airport alongside a 12% discount for Short Stay parking. If you are happy to use the off site car parks then you can get a 22% off Flying Scot indoor parking.
22% discount code at Glasgow Airport including offsite parking (Skyport by Flying Scot)

Get an instant discount on Skyport by Flying Scot which is on sale at the moment. Using this promo code gets you an awesome 22% off the price. With 8 days parking costing around £19.49 after the 22% discount has been applied, you'll be saving cash for your holiday. Join the host of customers using this voucher code to pay less for Glasgow Airport parking.
Skyport Park and Ride Parking
Take advantage of a 14% discount on the price you'd usually pay with this exclusive voucher code on Skyport Park and Ride at Glasgow Airport. Transfers run as needed based on demand and take around five minutes to get to the airport. Keep your keys with you whilst you're away and pick up your car on your return. Transfers are free and included in the price. One week's parking costs between 35 and £40 and free cancellation options are available. 92% of customers say they would book again. Skyport Park and Ride is one of the most popular car parks at Glasgow International Airport. The car park uses a rather fancy number plate recognition system to automatically raise the barriers when needed so you can just drive in and park up.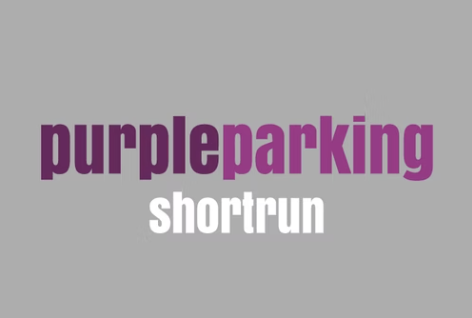 Purple Parking Short Run Parking
Purple Parking Short Run car park is five minutes away from the Glasgow airport and is generally the cheapest option. One week's parking costs around £30. You can use our discount code to get an instant 14% discount on the Purple Parking Short Run parking. This car park barrier uses technology to record your car registration and lift the barriers for you. It's easy to find this car park and there are clear directions given on the booking confirmation. The staff are friendly and the car park has 24-hour surveillance, security guards, and high-level CCTV in operation. They're even showers and toilets and showers available if you need to freshen up.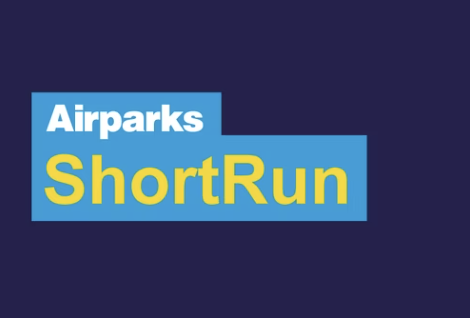 Airparks Short Run Parking
Airparks Short Run has been in operation for many years and is a slick operation. Our promo code for Airparks Short Run gets you 14% off the price you'd normally pay saving you £5 to £8. You can now book a week's parking using this discount code for under £40. This voucher code for Airparks Short Run parking at Glasgow Airport may expire soon, so don't hang around! The shuttle bus is free and included in the price. The car park will automatically recognise your number plate and automatically operate the barriers for entry and exit. You hold onto your keys whilst you're away. The staff are customer-focused and there to help you should you have any questions. Airparks Short Run at Glasgow Airport comes highly recommended with this voucher code.
How discount codes work for Glasgow Airport Parking
You don't need to do anything extra in order to apply these Glasgow airport parking discount codes. We've added the discount codes to the links on this site so you can just click through to apply the discount. This is the easiest way to get cheap parking at Glasgow Airport. When you run a search for parking you'll see the discounted prices apply next to each one of the car parks. Then all that's left to do is choose the parking option that suits your needs.
FREE Cancellation with these Glasgow Airport Parking voucher codes!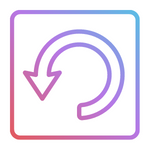 If you want the ability to cancel your booking for free should plans change then you're in luck. Many car parks at Glasgow airport offer free cancellation. Look out for the label next to each one of the car parks. Just because you're using our exclusive Glasgow Airport parking voucher code doesn't mean you should be stopped from changing your booking if your plans change. Hundreds of customers use our Glasgow parking vouchers every year and are very happy
| Car Park | Price | Saving |
| --- | --- | --- |
| Holiday Extras Short Run | £31.49 | £3.50 |
| Skyport | £34.12 | £4.12 |
| Park Safe Park and Ride | £38.20 | £9.77 |
| Purple Parking | £33.10 | £6.03 |
| Airparks Shortrun | £44.12 | £3.88 |
Easy tips to get a deal on Glasgow Airport Parking
We've helped hundreds of customers get a good deal on Glasgow Airport Parking with Hotels. We have a voucher code that can get you Airport Parking with Hotels at Glasgow Airport for under £40. Get in touch with the team and we'll send you this exclusive promotional code. There are a range of airport hotels to choose from. It's very popular if you have an early or late flight.
Using the best Glasgow Airport discounts
It's so simple and can save you a small fortune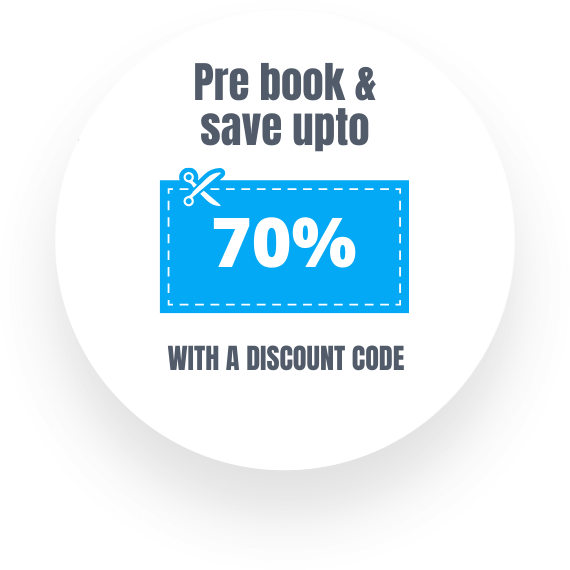 The best way to access big discounts on Glasgow Airport Parking
Follow these simple tips to save more..
Most people don't take the right approach to booking their airport parking at Glasgow. The key to it is to get your parking space at Glasgow Airport 2 months before you depart. This tends to be the sweet spot for low prices. Then you should really consider some of the Hotel with Parking voucher codes at Glasgow as they reduce the price big time. Do your research around the best discount codes and pay less. Plan ahead and don't leave booking until the night before. We have all the voucher codes you could possibly need for parking at Glasgow Airport.
We've helped many customers find Glasgow Airport parking discounts
We hope you save you money today
Discounts made on Glasgow parking
Voucher codes used at Glasgow
Car parks available at Glasgow Airport
Why pay more?
Voucher codes are the fastest way to instantly save you money. Cheap Glasgow Airport parking is just a few clicks away.
Glasgow Airport parking discount codes used